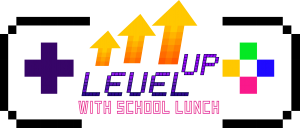 Johnstown, NY  – October 2023 – To recognize the National School Lunch Program, serving nearly 30 million children each day, our schools will celebrate National School Lunch Week from October 9-13, 2023. The fun and creative campaign theme, "Level Up with School Lunch," highlights the importance of a healthy school lunch to students' success both in and out of the classroom.
Research shows children are getting their healthiest meals at school. National School Lunch Week will highlight the nutritious foods available daily at our schools. Our menus are planned by a registered dietitian and follow age specific caloric recommendations and follow required and recommended guidelines. We offer fresh fruits and vegetables daily, whole grains, and low sugar low sodium ingredients. Our program is helping educate students about healthy choices and physical activity. We will continue initiatives throughout the year.
"National School Lunch Week helps us educate parents and students about all the wonderful benefits of our lunch program." said Erika Winney, School Lunch Director.  Winney is a registered dietitian and knows all of the benefits to healthy meals for students.
We are planning to Level Up our menu with fun Video Game inspired names to our already delicious and nutritious offerings. Our students will enjoy seeing some of their favorites from Pokemon, Minecraft and Super Mario Brothers! Please refer to the attached weekly menu for specifics.
The federally funded National School Lunch Program (NSLP) has been fueling students for success for 77 years. Our school receives the added benefit of offering free meals to all students through CEP (Community Eligibility Program).  Contact Jennifer Radigan at 518-464-5106 or jennifer.radigan@neric.org to learn more.
The "Level Up with School Lunch" campaign is made possible by the nonprofit School Nutrition Association and Kellogg's. Parents and students can follow the fun on social media using the hashtags #NSLW23, #LevelUpWithSchoolLunch and #SchoolLunch.
Healthy breakfast options are available daily as well. We follow all Smart Snack guidelines.
For more information on National School Lunch Week, visit: https://schoolnutrition.org/nslw/.